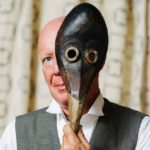 For media inquiries, contact Allison Lott
[email protected]
713-269-9691
***FOR IMMEDIATE RELEASE***
The Third Annual Weird Homes Tour Returns to Houston October 6, 2018
This One-Day-Only Event Showcases Houston's Most Extraordinary Living Spaces
HOUSTON, Texas— Weird Homes Tour is pleased to announce its return to Houston for its third annual event on Saturday, October 6, 2018 from 10 a.m. – 6 p.m. This one-of-a-kind journey takes attendees throughout Houston and into some of this city's most extraordinary homes. Weird Homes Tour returns to Houston after expanding nationwide, with the tour in its original hometown of Austin, plus inaugural tours in New Orleans, Detroit, and Portland.
The Weird Homes Tour is self-paced and self-driving tour of eight of Houston's most remarkable homes. Take a peek into the lives of Houstonians who have blurred the line between art space and living space and live amongst a breathtaking array of art and unique collections. Tickets are $30 to see all but one of the homes, spread across different neighborhoods in Houston, and $55 to unlock access to the VIP home of Will Breaux, the newly finished McGowen Container House, incorporating 11 shipping containers to create 3 stories of living space. VIP ticket buyers also get a complimentary copy of Weird Homes Tour's recently released bestselling coffee table book, Weird Homes: The People and Places That Keep Austin Strangely Wonderful. Weird Homes Tour a family friendly event where kids 13 and under can tour for free.
Other new homes on the tour include the High Water House of Drew and Pam Shefman (son and daughter-in-law of Weird Homes Tour veteran, Sue Shefman) and The House of Luminosity, the studio and home of glass artist, Kim Clark Renteria. Located in the flood prone Meyerland neighborhood, High Water House is an ordinary mid-century modern home made extraordinary when the couple decided to lift it 10 feet into the air. This has led to an interesting and unusual use of space under the home. The House of Luminosity is filled with vibrant colors and the mosaic and stained glass work of its owner.
The homes on the tour will be those of artists, collectors of oddities, rare art collectors, and more, and only visitors of the Weird Homes Tour will get a glimpse inside the walls of these truly unique Houston spaces. Returning favorites on the tour include Kelly Gale Amen's KGA Compound at the Historic Dakota Lofts, which is filled with the juxtaposition of extremes that just seem to fit perfectly together. Amen's home and his contribution to the lobby of the Dakota Lofts with commissioned paintings to bring awareness to his charity, Cancer Below the Belt, is inspired by the awareness of living with what we love, the awareness of repurposed living spaces and the awareness of finding a path for one's health and adventure. Also returning this year are Selia Qyinn's Secret Garden whose backyard oasis is tucked away on three quarters of an acre in Spring Branch; The Artist's Haven, the art studio/living space of celebrated artist, Sharon Kopriva's who, for more than thirty years, has combined two- and three-dimensional media often with fusions of papier-mâché and found objects, and is known for creating mummy-like, haunting sculptural pieces; Sue Shefman's Hippolotofus Home with her collection of over 2000 hippos, including her well-known hippo art car; and The Art House of Bonnie Blue, where the home itself is the canvas for her unique folk creations.
The tour will give back by donating a portion of all ticket sales to local affordable housing charity, New Hope Housing, an organization whose core purpose is to provide life-stabilizing, affordable, permanent housing with support services for people who live on very limited incomes. This will be the second year to partner with this deserving organization. Weird Homes Tour supports their vision to be an enduring institution serving Houston's most vulnerable citizens. Learn more at www.newhopehousing.com.
The Weird Homes Tour was founded in Austin in 2014 by Chelle and David J. Neff who had a vision to showcase the places that make Austin fun, irreverent, strange and dynamic. After the first successful tours in Austin, the Neffs brought the Weird Homes Tour to Houston in 2016, and it has now expanded nationwide. The coffee table book is available on Amazon for $16.99.
https://www.amazon.com/Weird-Homes-People-Strangely-Wonderful/dp/1510723609/ref=cm_cr_arp_d_bdcrb_top?ie=UTF8
ABOUT WEIRD HOMES TOUR:
We are a social impact start-up, created by a team of event veterans that takes care of our people, our planet and makes a profit. We were founded in 2014 and held our first tour in Austin that same year. We take our profits and put them back into our communities by investing in smart, well-run nonprofits and other social impact businesses. We promise to value what makes Austin and Houston great. We exist to share the story of past, present, and future culture of Houston, as well as preserving and protecting what's unique in this great city. For more information, visit www.weirdhomestour.com.